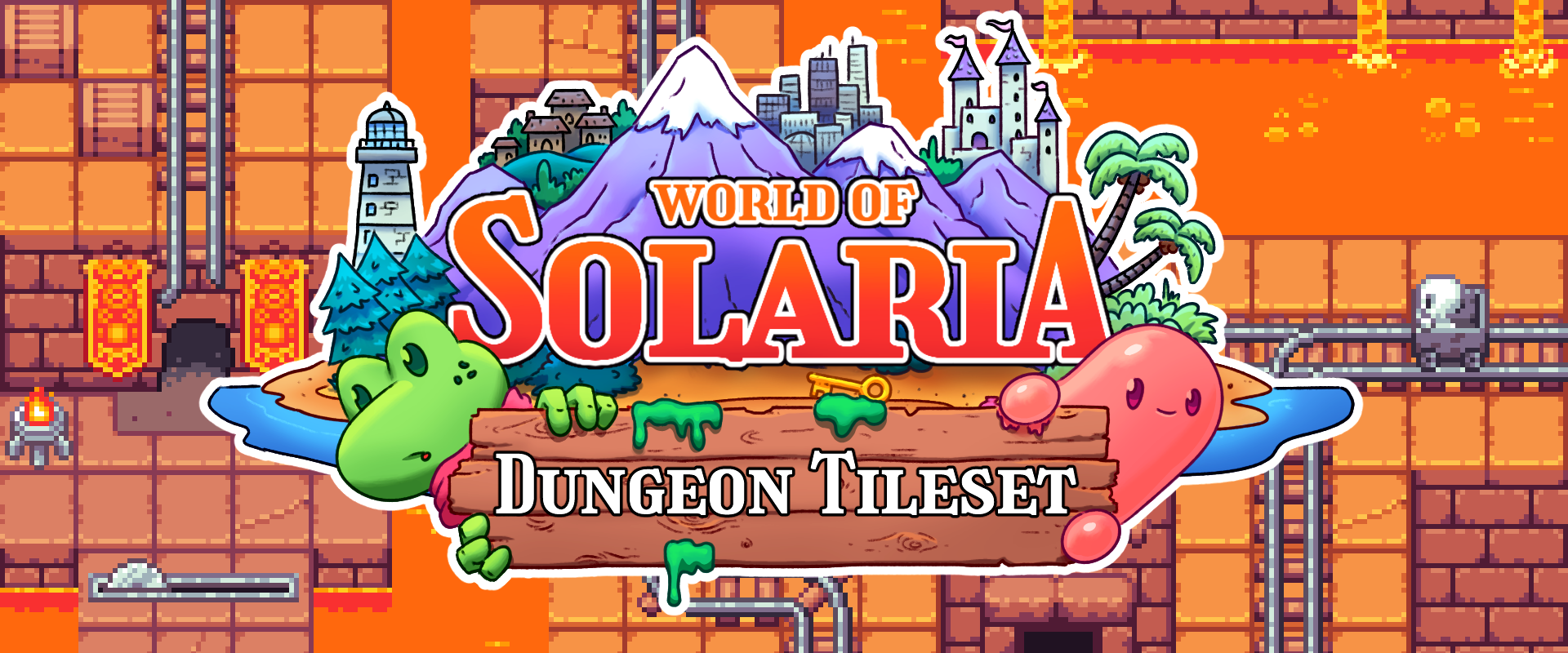 World of Solaria: Dungeon Tileset
A downloadable RPG asset pack
Get this RPG asset pack and 5 more for $40.00 USD
View bundle
UPDATE 01: QUALITY AND ZELDA TILES
The quality of the artwork has ben given an overhaul to bring it more in line with recent sets! A majority of the tiles have had some kind of change or improvement! This update also adds 2D Legend of Zelda style wall tiles, and the inclusion of the first character portraits to go along with the sprites! 878 new tiles have been added, allowing for more vibrant, detailed and varied maps!
ABOUT
The world of Solaria was an epic RPG that I never got around to making, so instead, it will be taking the form of a series of asset packs that you can use to create your own game!
Delve deeper into the world of Solaria with the Dungeon Tileset Pack! Far from the idyll of the rural villages, Solaria has a darker side, full of traps and foul creatures, but also treasure and adventure!
This is in development, and will continue to be added to and expanded for a while! If there is anything you'd like to see added or if you have any feedback, let me know and I'll make the changes in an update!
The palette used is Resurrect64 by Kerrie Lake!
CONTENTS
16x16 Dungeon tileset: 2426 individual tiles.

7 wall types , 9 floor types, spike and saw traps, puzzle elements , minecarts and tracks , decorations, bridges, statues and more!
NEW! Diagonal wall tiles!
NEW! 2D Legend of Zelda style wall tiles, doors, and decorations.
NEW! Puzzle tiles with coloured switches, buttons and chests!

Tile Animations:

4-frame animations for water, traps, torches, switches.
NEW! Door animations!

5 Character and Enemy Sprites:

A hero character and 4 enemies, with colour variations. 4-frame walking and idle animations in 4 directions. Hero character features attack animations in 4 directions.

NEW! Character portraits for the frog and skeleton characters. More to come in future updates!
NEW! Reorganised file structure.

Assets are now separated into different categories and files for ease of use and future updates!
All assets are in PNG format.
FUTURE
More character sprites!

Monsters, NPCs, creatures and animals.

More tile animations!
More character animations!

Dodging and evasion, special attacks and more!

More tile variations!

Exteriors, boss doors, more items.

Other Stuff!

Possibly UI elements, autotiles and other stuff if there is demand.
LICENSE
What you can do:
Use in commercial and non-commercial video games and personal projects.
Edit the assets as much as you like for use in projects.
Publish work using these assets on websites relating to art, games, and similar.
What you can't do:
Resell, repackage or redistribute the assets in original or modified form.
Use the assets or derivatives in logo, trademark, or service mark.
Include these assets in game making tools or code templates.
Use the assets to train AI image generators.

Use the assets for the creation or promotion of NFT/crypto/play to earn/metaverse/web3 projects.
Use the assets in any printed media or physical products.
SUPPORT
You can follow me on Twitter or Instagram, other links on my Carrd! You can use the button below to support me on Ko-fi! You don't have to credit me for the use of these assets, but it's much appreciated!
Ko-fi supporters will receive a download key for the Quiet Cabin pack! Check the "Thank you" message!
You can also support me by purchasing the other World of Solaria tileset packs!

| | |
| --- | --- |
| Updated | 6 days ago |
| Status | In development |
| Category | Assets |
| Rating | |
| Author | jamiebrownhill |
| Genre | Adventure, Role Playing |
| Made with | RPG Maker, Unity, Aseprite |
| Tags | 16-bit, Dungeon Crawler, JRPG, Pixel Art, Retro, RPG Maker, Tileset, Top-Down |
| Links | Twitter |
Purchase
Get this RPG asset pack and 5 more for $40.00 USD
View bundle
In order to download this RPG asset pack you must purchase it at or above the minimum price of $12.50 USD. You will get access to the following files:
World of Solaria Dungeon Update 01a.zip
3 MB
Comments
Log in with itch.io to leave a comment.
Tem algum jogo que ja utilizou esse pack do world of solaria?
I don't know about anything that uses this exact set, I kind of have to rely on devs to tell me. I do know that The Girl from Arkanya and Goblin's Expedition are in development and use other Solaria assets, although I don't have anything to do with the development of these games, so that might change before release.
I have purchased all parts of this collection. And let me say hopefully you add UI (bag, weapon slots in this design) can be useful for this. I don't have many monsters either.

Thank you so much! I need some practice with UI but I do plan to add both of the things you mentioned!
In the pack with monsters, incl. there are skeletons that are also available in a different package. It is the same with slimes. So there are really only 6 monsters of different colors. I know you have to work with these art a bit, but that's how I paid for some items 2 times. he's a little weak. You are doing a really desirable job. However, it's fun to make monsters unique to a given pack.
Yeah, I will add more as time goes. For the moment I'm updating everything to work better with RPG Maker, before moving on to quality and content updates.
Awesome work!
Is there any plans to make corner tiles for rooms? That way you can set up doors to the sides and bottom of the room?

For example, having trouble picturing how I'd do a locked door for the side of a room
Yes, definitely, always looking for ways to make the sets more versatile! Suggestions are always welcome!
Could you possibly link me to an example of what you mean if you have one? I'm away from my computer for a few days and I'm struggling to picture it 😅
Hi Jamie, just a quick example. If you go for a ZRPG style dungeon, I didn't notice a tile to fill in the corners.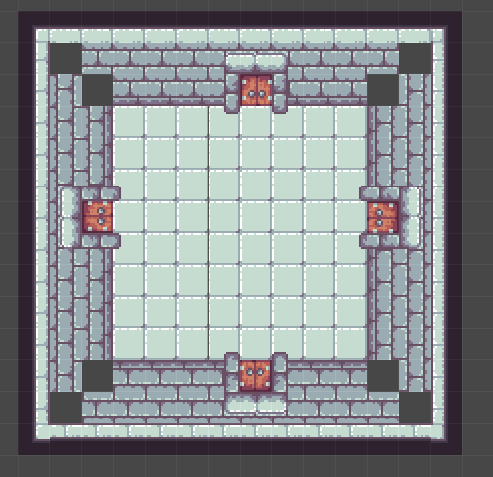 Okay, I understand now, thank you!
I can work on that when I'm back home in a few days, shouldn't take too much work!
These are still on the way! Now the new set is out which includes the Zelda-style walls, I'll be working on updating all the existing sets too!
Me encantaron! Solo me falta comprar el de el Dungeon <3 muchas gracias bro!
This is a stunning pack, there are so many colours to pick from!! I cannot wait to see more of Solaria!
Thank you so much, I tried to make it as versatile as possible! Really excited to see what people make with it!