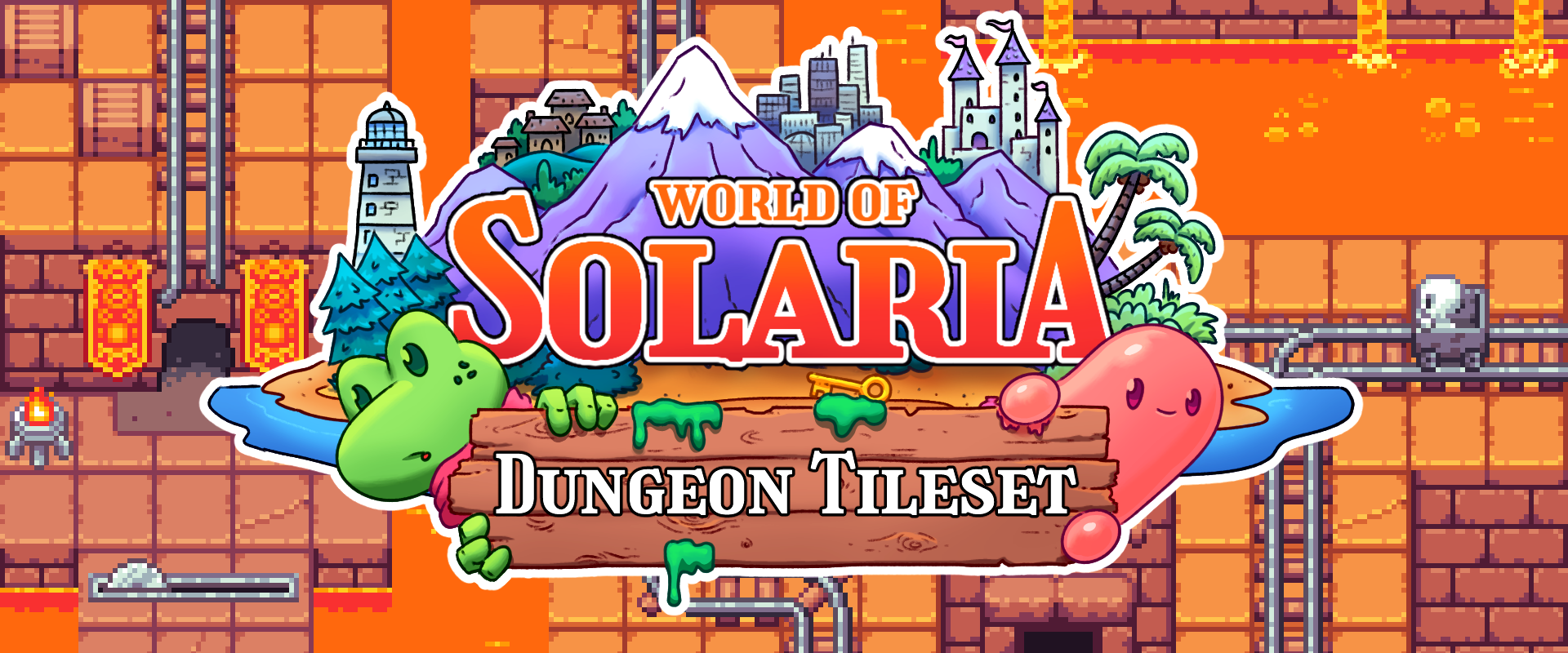 World of Solaria: Dungeon Tileset
World of Solaria Dungeon Tileset Update 01!
---
Hello!
The big new update for the dungeon pack has arrived! This includes requested Legend of Zelda style wall tiles, new dungeon puzzle elements, door animations, character portraits and more!
UPDATE 01: QUALITY AND ZELDA TILES
The quality of the artwork has ben given an overhaul to bring it more in line with recent sets! A majority of the tiles have had some kind of change or improvement! This update also adds 2D Legend of Zelda style wall tiles, and the inclusion of the first character portraits to go along with the sprites! 878 new tiles have been added to the main set, and many more in the Zelda tiles, allowing for more vibrant, detailed and varied maps!
CONTENTS
16x16 Dungeon tileset: 2426 individual tiles.

7 wall types , 9 floor types, spike and saw traps, puzzle elements , minecarts and tracks , decorations, bridges, statues and more!
NEW! Diagonal wall tiles!
NEW! 2D Legend of Zelda style wall tiles, doors, and decorations.
NEW! Puzzle tiles with coloured switches, buttons and chests!

Tile Animations:

4-frame animations for water, traps, torches, switches.
NEW! Door animations!

5 Character and Enemy Sprites:

A hero character and 4 enemies, with colour variations. 4-frame walking and idle animations in 4 directions. Hero character features attack animations in 4 directions.

NEW! Character portraits for the frog and skeleton characters. More to come in future updates!
NEW! Reorganised file structure.

Assets are now separated into different categories and files for ease of use and future updates!
All assets are in PNG format.
FUTURE
More character sprites!

Monsters, NPCs, creatures and animals.

More tile animations!
More character animations!

Dodging and evasion, special attacks and more!

More tile variations!

Exteriors, boss doors, more items.

Other Stuff!

Possibly UI elements, autotiles and other stuff if there is demand.
This is in development, and will continue to be added to and expanded for a while! If there is anything you'd like to see added or if you have any feedback, let me know and I'll make the changes in an update!
Files
World of Solaria Dungeon Update 01.zip
2 MB
Sep 08, 2021
Get World of Solaria: Dungeon Tileset