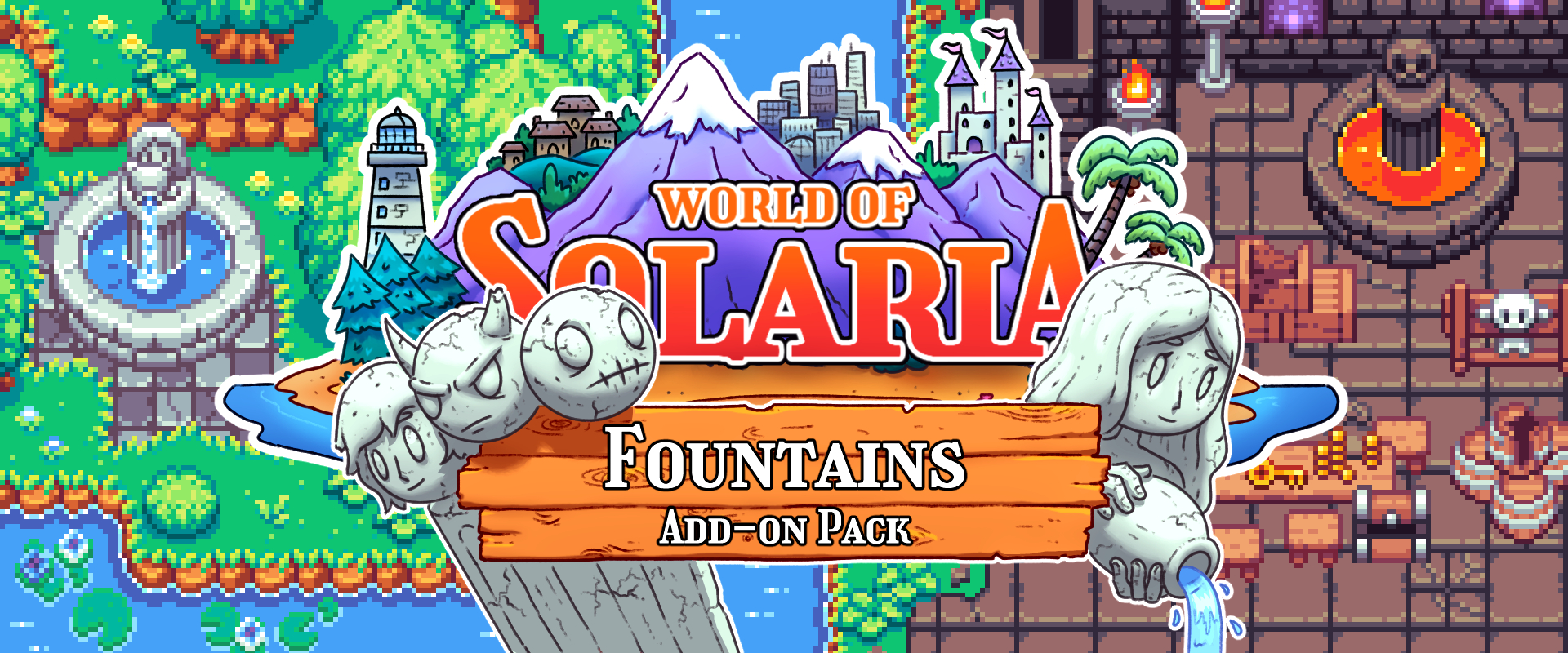 World of Solaria: Fountains Add-on
A downloadable Solaria add-on pack
Get this Solaria add-on pack and 5 more for $40.00 USD
View bundle
ABOUT
The world of Solaria was an epic RPG that I never got around to making, so instead, it will be taking the form of a series of asset packs that you can use to create your own game!
Fountains are springing up all over Solaria, in towns, villages, cities and even dungeons. Some of these fountains are beautiful, adorned with fair maidens pouring water from ornate vessels. Some of these fountains however, are quite demonic in appearance. Wait... is that blood?!
This pack is in development, and there will be more added in future updates! If there is anything you'd like to see added or if you have any feedback, let me know and I'll make the changes in an update!
*This is an add-on for the World of Solaria asset packs and contains only the fountain assets. Screenshots are examples only, using tiles not included in the asset pack! Check the grey tilesheet images for an overview of what's included.*
The palette used is a slightly expanded Resurrect64 by Kerrie Lake!
CONTENTS
Fountain Assets:

7 different fountain colours!
7 varieties for each colour!
7 different liquid colours!
Empy, frozen and snow-covered variations!

Tile Animations:

4-frame animations for the fountains.
All assets are in PNG format.

FUTURE
More fountains!

More styles of fountains and varieties for each.

Other stuff!

Puzzle elements/animations: fountains filling, water turning on/off.
Leave a comment to let me know what you want to see!
LICENSE
What you can do:
Use in commercial and non-commercial video games and personal projects.
Edit the assets as much as you like for use in projects.
Publish work using these assets on websites relating to art, games, and similar.
What you can't do:
Resell, repackage or redistribute the assets in original or modified form.
Use the assets or derivatives in logo, trademark, or service mark.
Include these assets in game making tools or code templates.
Use the assets to train AI image generators.

Use the assets for the creation or promotion of NFT/crypto/play to earn/metaverse/web3 projects.
Use the assets in any printed media or physical products.
SUPPORT
You can follow me on Twitter or Instagram, other links on my Carrd! You can use the button below to support me on Ko-fi! You don't have to credit me for the use of these assets, but it's much appreciated!
Ko-fi supporters will receive a download key for the Quiet Cabin pack!
You can also support me by purchasing the other World of Solaria tileset packs!
Purchase
Get this Solaria add-on pack and 5 more for $40.00 USD
View bundle
In order to download this Solaria add-on pack you must purchase it at or above the minimum price of $4 USD. You will get access to the following files:
Fountain Pack License Update.zip
2 MB