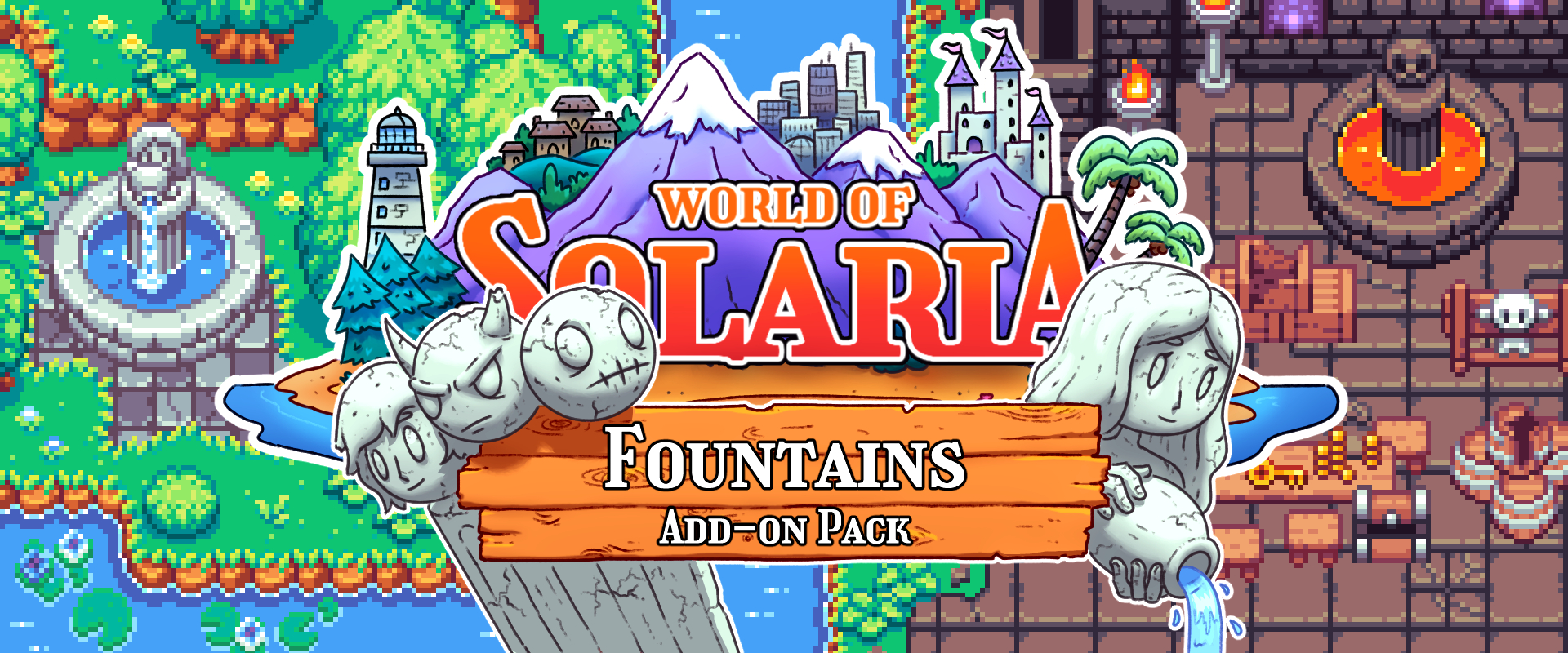 World of Solaria: Fountains Add-on
World of Solaria Founatin Add-on Launch!
---
Hello!
Fountains are springing up all over Solaria, in towns, villages, cities and even dungeons. Some of these fountains are beautiful, adorned with fair maidens pouring water from ornate vessels. Some of these fountains however, are quite demonic in appearance. Wait... is that blood?!

*This is an add-on for the World of Solaria asset packs and contains only the fountain assets. Screenshots are examples only, using tiles not included in the asset pack! Check the grey tilesheet images for an overview of what's included.*

This is the first add-on pack for the World of Solaria assets!
This marks the beginning of more tightly focused and themed asset pack releases! I'm hoping to move to releasing base packs, containing basics and essentials for projects, and supplement those with smaller releases that are designed to work well in every setting.
CONTENTS
Fountain Assets:

7 different fountain colours!
7 varieties for each colour!
7 different liquid colours!
Empy, frozen and snow-covered variations!

Tile Animations:

4-frame animations for the fountains.
All assets are in PNG format.
FUTURE
More fountains!

More styles of fountains and varieties for each.

Other stuff!

Puzzle elements/animations: fountains filling, water turning on/off.
Leave a comment to let me know what you want to see!
SUPPORT
You can follow me on Twitter or Instagram! You can use the button below to support me on Ko-fi! You don't have to credit me for the use of these assets, but it's much appreciated!
Monthly Ko-fi members will receive exclusive monthly tiles, compatible with all World of Solaria sets, based on @Pixel_Dailies themes from the previous month!
One-time Ko-fi supporters will receive a download key for the Quiet Cabin pack!
Get World of Solaria: Fountains Add-on