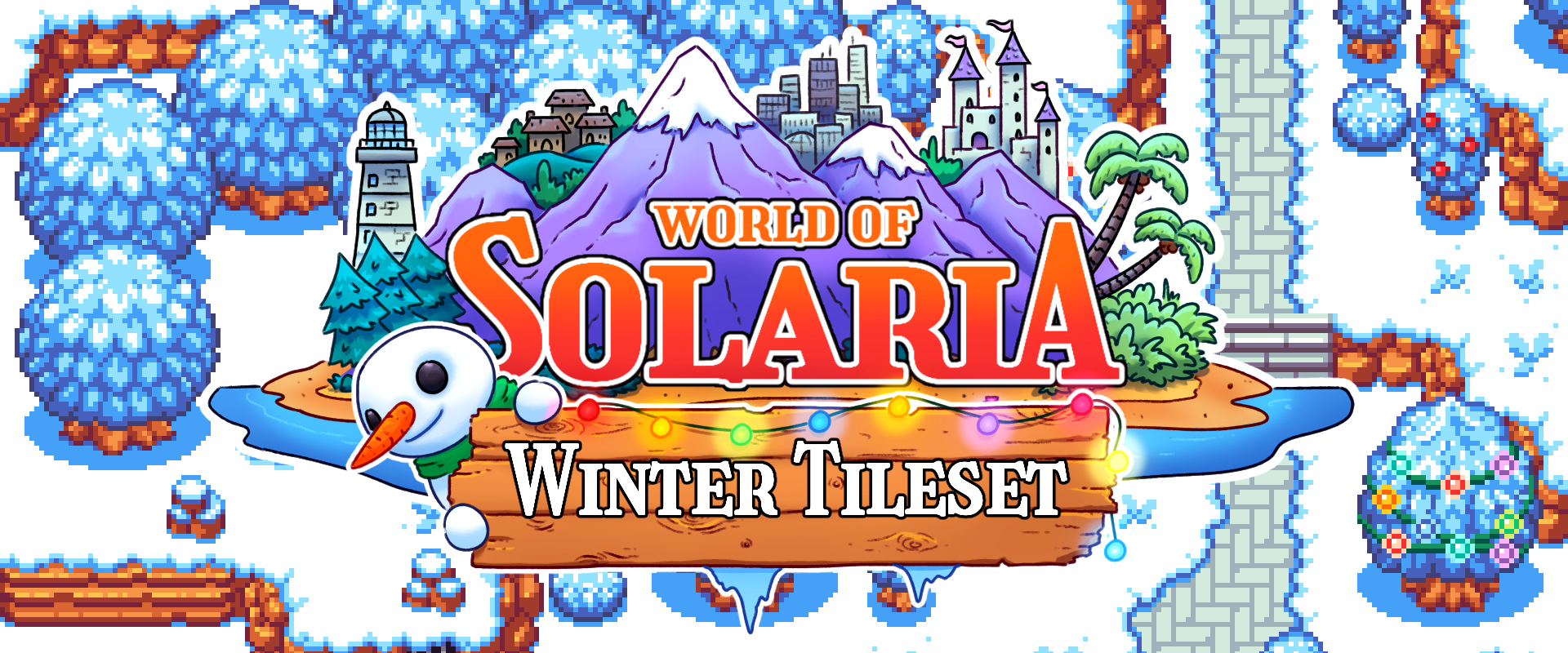 World of Solaria: Winter Tileset
A downloadable RPG asset pack
Get this RPG asset pack and 5 more for $40.00 USD
View bundle
ABOUT
The world of Solaria was an epic RPG that I never got around to making, so instead, it will be taking the form of a series of asset packs that you can use to create your own game!
Winter has arrived in Solaria with the Winter Asset Pack! Crisp white snow has fallen over the land and twinkling lights decorate the trees and houses, creating a magical atmosphere! New kinds of crops that thrive in the cold weather can be grown and harvested too!
This pack is in development, a lot more will be added in updates, coming soon! If there is anything you'd like to see added, or if you have any feedback, let me know and I'll make the changes in an update!
*Screenshots contain sprites and some tiles from other World of Solaria sets. They are not included in this set! Check the full set images to see what's included!

The palette used is a slightly modified Resurrect64 by Kerrie Lake!
CONTENTS
Winter Village tileset: 1838 individual tiles.

16x16, 32x32 and 48x48 pixel tiles
Snow and frozen dirt with variations
11 wall types with variations
Snowy roofs
Winter vegetation, trees with lights, snow-covered decorations
3 winter crops, each with 3 growth stages,
Marketplace tiles and more

Tile Animations:

4-frame animations for water, torches, chests and festive lights
All assets are in PNG format.
FUTURE
Character sprites!

Cosy wintery versions of existing sprites, icy enemies, cool winter animals!

More tiles!

Winter sports, more festive decorations, igloos!

More tile variations!

Roof variations, winter specific market tiles!

More asset packs!

Possibly UI elements, fonts, sci-fi tiles, pirates, interiors, and plenty more!
LICENSE
What you can do:
Use in commercial and non-commercial video games and personal projects.
Edit the assets as much as you like for use in projects.
Publish work using these assets on websites relating to art, games, and similar.
What you can't do:
Resell, repackage or redistribute the assets in original or modified form.
Use the assets or derivatives in logo, trademark, or service mark.
Include these assets in game making tools, code templates, or NFT/crypto projects.
COMMISSIONS
Something you want/need, that's not part of one of the packs? I'm available for commission! Contact me via Twitter!
SUPPORT
You can follow me on Twitter or Instagram! You can use the button below to support me on Ko-fi! You don't have to credit me for the use of these assets, but it's much appreciated!
Monthly Ko-fi members will receive exclusive monthly tiles, compatible with all World of Solaria sets, based on @Pixel_Dailies themes from the previous month!
One-time Ko-fi supporters will receive an itch.io download key for the Quiet Cabin pack! Check the "Thank you" message!
You can also support me by purchasing the other World of Solaria tileset packs!
Purchase
Get this RPG asset pack and 5 more for $40.00 USD
View bundle
In order to download this RPG asset pack you must purchase it at or above the minimum price of $9 USD. You will get access to the following files: