World of Solaria: Demo
A downloadable RPG asset demo pack
ABOUT
The world of Solaria was an epic RPG that I never got around to making, so instead, it will be taking the form of a series of asset packs that you can use to create your own game!
This demo pack contains a small selection of tiles from three of my tilesets; the Cave Tileset, Dungeon Tileset, and Rural Village Tileset!
*The screenshots shown use the full tilesets! Please refer to the final images for an overview of what is included in this demo!
This pack is in development, and the assets will be updated as the other sets are! It won't be added to significantly or often. It does not include any animations.
The palette used is a modified version of Resurrect64 by Kerrie Lake!
CONTENTS
16x16 tileset: 312 individual tiles.

A small selection of tiles from the Cave, Dungeon and Village sets.

1 Character Sprite:

A hero character with 4-frame walking, idle, minecart and attack animations in 4 directions.
All assets are in PNG format.
LICENSE
What you can do:
Use in commercial and non-commercial video games and personal projects.
Edit the assets as much as you like for use in projects.
Publish work using these assets on websites relating to art, games, and similar.
What you can't do:
Resell, repackage or redistribute the assets in original or modified form.
Use the assets or derivatives in logo, trademark, or service mark.
Include these assets in game making tools, code templates, or NFT/crypto projects.
COMMISSIONS
Something you want/need, that's not part of one of the packs? I'm available for commission! Contact me via Twitter! You can also commission small things like sprites and tiles via Ko-fi!
SUPPORT
You can follow me on Twitter or Instagram! You can use the button below to support me on Ko-fi! You don't have to credit me for the use of these assets, but it's much appreciated!
Ko-fi members will receive exclusive monthly tiles, compatible with all World of Solaria sets, based on @Pixel_Dailies themes from the previous month!
Ko-fi supporters will receive an itch.io download key for the Quiet Cabin pack! Check the "Thank you" message!
You can also support me by purchasing the other World of Solaria tileset packs!
Download
Click download now to get access to the following files:
Solaria Demo Pack.zip
563 kB
Comments
Log in with itch.io to leave a comment.
Thanks so much! I'm planning on updating it soon, with making it look a bit nicer and adding a few things!
man i love your tileset and also, i know what you could improve this asset. You could modify it so it has more tools, items, and have corners
Thank you for the feedback! I'll make a note of it and see what I can do!
i think you should make it have more corner blockslike this, btw this is just making it so that it fits the ruletile of unity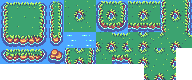 Great, thank you! I'm not a dev, so it might take me a while to work on this specific aspect, but I'll keep you updated on the progress!
not me thinking this is a game ;-;

Excellent work. Thanks a lot for such assets)
Hey! I love these assets and am wanting to check on your distribution license.

One of the engines I use has an asset library for users that lists a bunch of free assets (with accreditation), but the asset library *is* stored on a centralized server off itch. While I'm assuming your licensing would restrict/deny this type of use, I wanted to confirm to be 100% sure.
Hi, thanks for checking it out!
Yeah, the current license on it would restrict that.
Can I ask what engine it is? I'd like to do some research and may be able to amend the license for this free set.
Sure thing! GDevelop 5. Https://gdevelop-app.com
Looks awesome! how do I download it? Can't find the button...
Wow I completely forgot to upload the files, what an idiot! Thanks for letting me know, I'll add them now!
This is lovely! What a great idea!